Hire Perth's Best Bluestone Cleaning Service Expert
Basalt is another name for the stone known as bluestone. The primary component of the igneous rock known as basalt is feldspar. Due to the lava's quick cooling, it is often fine-grained and grey to black in colour. Common uses for bluestone include landscaping and interior flooring. The incredible slide and scratch resistance of this product is one of its best qualities. However, if you don't clean the blue stones regularly, they eventually become discoloured and ugly. Our Bluestone Cleaning Perth experts can successfully restore your tiles. Additionally, Tims Tile Cleaning Perth can clean blue stone tiles both indoors and outside. Therefore, get in touch with us right away if your bluestone tiles no longer seem as good as they once did.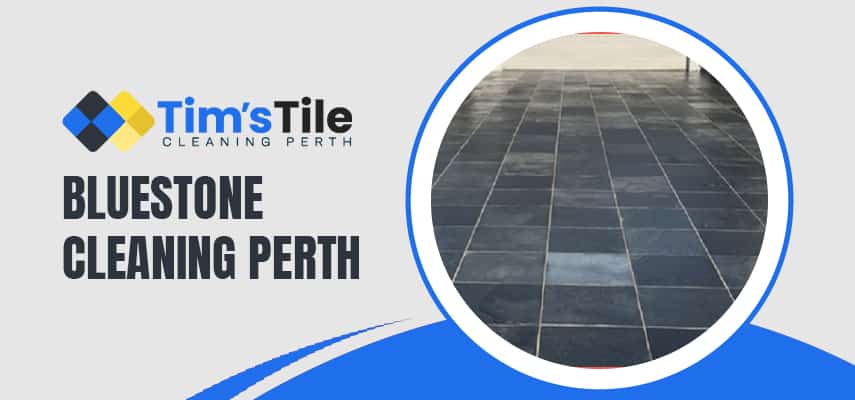 Why Is Bluestone Cleaning Important?
Bluestone is extremely permeable but has a lot of aesthetic and practical benefits. This means that it can take on the qualities of substances that have been dropped or spilled, resulting in stains. Therefore, it's crucial to quickly clean as well as generally maintain your bluestone slabs and tiles. Although bluestone is a beautiful flooring option, continuous daily use and damage can make it look less than attractive. Because of improper or negligent cleaning, this natural stone frequently loses its unique composition.
Tiles made of bluestone, also known as basalt, are made of grains. You may have noticed, though, that your bluestone tile appears oily and sticky or you notice a discolouration in your blue stone flooring.
We offer specialised treatments to revive your bluestone. Our products are among the best on the market, and with the skilful application, we can transform even the dullest stones. Let us help you extend the lifespan of your bluestone tiles by speaking with our specialists right away. You'll save money and time in the future thanks to our expert help.
The Process We Take For Effective Bluestone Tile Cleaning
New bluestone flooring shimmer, add personality, and appeal to any area, whether in a business or residential building. But bluestone pavers or tiles can lose their aesthetic appeal due to improper care and decades of use and abuse. Whatever the level of damage, Our experts for Bluestone Cleaning Perth can repair your bluestone for a small portion of the expense of completely rebuilding the area. The following are some processes of our bluestone cleaning service:
Inspection: Our team of experts will examine, analyse, offer guidance, and repair your floors to an amazing state. We thoroughly examine your bluestone tile throughout the inspection. We make wise decisions based on that.
Vacuum: We vacuum the dust from the bluestone. We clean bluestone with the latest vacuums as well.
Securing: If necessary, we will also seal the blue stone tile.
Sanitization: As a final step, we offer sanitization to remove bacteria and germs from unclean bluestone tiles.
Re-Examination: After this, we conduct another inspection and find that no bluestone tiles remain untreated. We also observe the outcome of our work during re-check, leaving you with spotless bluestone tiles.
Why Are We The Best For Bluestone Cleaning in Perth?
Our Bluestone Cleaning Perth experts follow several procedures to thoroughly clean pavers. Additionally, some elements, including size, mud, pathogens, and many others, affect our approach. We can make it much simpler for you to keep your bluestone looking great for years to come in addition to making it look fantastic in a short amount of time. The following are some additional benefits of hiring Perth Bluestone Cleaning service:
Advanced Tools: Bluestone naturally permeable stone that needs to be sealed to avoid dirt. Using our high-quality tools to repair and seal your Bluestone is the best option, whether you just bought them or want to bring back their brand-new beauty.
Skilled Professionals: Our Bluestone Cleaning Perth professionals have years of experience cleaning and restoring Bluestone. Homeowners, retailers, medical facilities, educational institutions, and large and small businesses are just a few of our customers. You can depend on getting the best possible Bluestone cleaning and protection.
Accessibility: We offer bluestone tile cleaning for both commercial and residential locations. Also available on weekends is our bluestone cleaning service.
Eco-friendly cleaning method: We effectively clean bluestone tiles using eco-friendly cleaning methods. So, book us for the greatest cleaning solution!
Effortless service: Our Perth Bluestone Cleaning provides trouble and mess-free cleaning.
No Extra Cost: There are no additional fees associated with our service. In addition, we offer reasonably priced bluestone cleaning services in Perth.
Perth Nearby Locations Where We Serve
Tile And Grout Cleaning services are offered in all Perth suburbs locations. We are available in all of these locations on a local basis.
Reviews
Floor Cleaning Service With The Utmost Professionalism
★★★★★
"
This company's tile and grout cleaning experts provided floor cleaning service with the utmost professionalism and expertise. He arrived on time, was respectful of the home and careful with the application of his products throughout the process. He offered very user-friendly tips about floor care moving forward. I will certainly refer them to my friends and family!
"
Floors And Tile Looked Immaculate
★★★★★
"
I had the hardwood floors sealed/cleaned and the tile/grout in the kitchen/laundry room cleaned in our rental after we moved out. Our hardwood floors had layers peeling off them. The professional tile and grout cleaning service I hired came to the rescue and removed all the dirty layers and cleaned the tiles. The hardwood floors and tile looked immaculate after he was done. We're so happy we are having you guys at our house where we just moved.
"
Very Punctual And Professional
★★★★★
"
The cleaner was very punctual and professional. He went above and beyond and got our old tile to look brand new again. The company was fast and scheduled the appointment for me within one hour. The cleaner communicated well and told us beforehand that he was coming. He also educated us on the process and how to maintain our floors. He even recommended cleaning products. Would call this tile and grout cleaning Perth service again! Great communication guys!
"
FAQs – Bluestone Cleaning Perth
The procedure of coating the tiles is known as bluestone stripping and sealing. Like how bluestone tiles fade over time. Your bluestone tiles can be restored, though, with some stripping and sealing.
Even though bluestone tile sealing might last for 5 years. However, sealing the tile every three years is necessary for the finest bluestone care. Contact us right away if you need the bluestone sealing service.
Yes, we offer bluestone cleaning services in Perth at reasonable prices. For the best outcomes, get in touch with us right away.
Bluestone Cleaning Perth
Call us at 08 6117 2797 Bluestone Cleaning Perth
Location: Perth, WA, 6000, Australia