A whitish crystalline coating known as efflorescence appears on the surface of stone and rock surfaces. Most of the time, water-soluble salts from many potential sources make up these unattractive salt deposits. Although efflorescence can be treated, it is a sign of another condition that must be addressed to stop the issue from again returning. Our efflorescence removal Perth service does its utmost to remove these salts and minerals, no matter the cause. The amount of water that enters the tile system can be reduced, among other things, by binding, waterproofing, and sealing.
Efflorescence is defined as the accumulation of crystalline salts in grout as a result of the salts' retention by water. We follow the proper procedures and use cleaning solutions to prevent their removal because efflorescence doesn't stick as mould does. By doing this, we can safeguard your tiles from structural damage for a fair cost.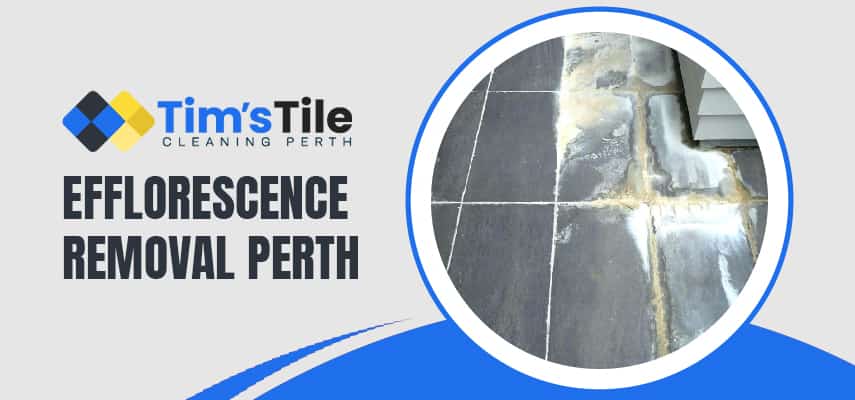 Indicators of Efflorescence Attack on Tiles
Sometimes, efflorescence and spalling are confused; spalling is a damaged brickwork condition when the brick surface begins to collapse due to freeze-thaw activity after being soaked throughout the winter.
Are you unaware of the appearance of efflorescence? Are you finding it harder to identify between stains and efflorescence? Then, solve all of your problems by searching for these efflorescence indicators:
White Powder: The whitish powder is a typical indicator of efflorescence that can be used to identify and confirm it. This white powder can be found on tiles, bricks, stones, and especially good cement products.
Buildup between Tiles: The majority of the time, the grout between the two tiles will also experience efflorescence accumulation. This is the main cause of tiles turning into hard surfaces.
Changing the colour of the tiles: People are unaware that their concerns about the change in tile colour are also a result of the efflorescence. If efflorescence is not properly addressed, your tiles may start developing a dull quality as a warning.
Patches: Efflorescence usually takes the form of patches, but it can also cover the full tile area. However, based on the different causes, it can also show up in patches in the most hidden places.
Darker Colours: If something is highlighted on a black background, like the grout joints, it looks in darker colours. Any cement-based product shows this dark colour efflorescence. It is not just found in the grout.
Perth Nearby Locations Where We Serve
Tile And Grout Cleaning services are offered in all Perth suburbs locations. We are available in all of these locations on a local basis.
Why Are Efflorescence Considered A Problem?
A property's efflorescence has a bigger role in causing problems and causing more harm the more there is of it. Both larger and lesser efflorescence problems might result from property flaws. Here are some of the causes why efflorescence is a problem.
Spillage: One of the main issues caused by efflorescence is spalling, which occurs when construction materials separate. You must avoid letting your house become moist to avoid this happening.
Reduces Tile Durability: Efflorescence exposes tiles to potential moisture issues, which reduces tile durability. Therefore, it is always preferable to act now rather than later and use expert efflorescence removal Perth services.
Damage to Properties Appearance: Property image will decline as efflorescence forms on brickwork, stones, cement-based items, and tiles. The issues resulting include paint flaking, moisture around efflorescence that encourages termite growth, etc.
Limited Ground Storage: Just as efflorescence results in waterproofing issues, moisture produces insufficient ground storage. Additionally, efflorescence rapidly affects the quality of groundwater, which later becomes a problem.
Salt Deposition that Moves: Efflorescence is a term used to describe salt deposits that move around and cause damage to surrounding objects. In actuality, a significant problem with ceramic tile surfaces is the movement of salt deposits.
What Does Include in Our Tile Efflorescence Removal Treatment?
Due to the problems it causes, Efflorescence cannot be ignored and you must deal with it before moving on to other things. Exfoliation and spot cleaning will frequently fix the efflorescence removal problems. Therefore, we for Efflorescence removal Perth offer the following to solve all of your efflorescence problems:
Utilise advanced cleaning solutions and equipment to quickly restore the old form that efflorescence has damaged.
Send our Perth specialists to your location so they can assist you right away.
For urgent and same-day efflorescence removal Perth services, we accept appointments from dawn till dusk. Even during open-offs!
Create and put into use the ideal efflorescence removal techniques for each property in both commercial and residential settings.
Possess the ability to remove efflorescence permanently while causing no harm to the property.
Provide our clients with useful guidance on removing efflorescence.
We Analyse The Efflorescence Problems With Your Tile And Find The Best Solution!
Salts that dissolve in water come from many different sources, with some salts being more liquid than others. Marble efflorescence is usually brought on by wicking through masonry, cement, or plaster as well as the apparent passage of water into foundation walls.
We have great news for those who worry about their properties even after routine efflorescence eradication. To extend the longevity of your tiles, bricks, etc., we build protective barriers against the occurrence of efflorescence. Additionally, we charge extremely reasonable prices for our efflorescence removal and Tile cleaning services, which we are confident is easy on your budget. We also employ advanced machinery to guarantee the best possible care for our client's properties. Therefore, get in touch with us today to avail our services!
Efflorescence Removal Perth
Call us at 08 6117 2797 Efflorescence Removal Perth
Location: Perth, WA, 6000, Australia