Porcelain Cleaning Services In Perth: We Offer Secure & Effective Cleaning Services
For this reason, you require a team of true Porcelain Cleaning Perth professionals. Perth residents have relied on our porcelain cleaning company for many years. We can clean any kind of tile and grout in Perth since we are the quickest and get the required results.
One of the most popular tile materials in modern homes is porcelain. There are three treatments available: natural, polished, glazed, and semi-glazed. Tile Cleaning carpets or rugs is much easier than cleaning grout and tile. It must be true that dirt, grime, stains, and other contaminants frequently get up on tile and grout. In addition, given the high moisture content, moulds may even grow on tiles.
If the right techniques are followed, cleaning porcelain tiles is rather simple. We advise using a microfiber cloth and a gentle cleaner if the tiles are glossy or polished. If the tiles are in their original state, they must first be treated with a penetration sealant before being used. Get in touch with our team right away if your porcelain floor has become stained.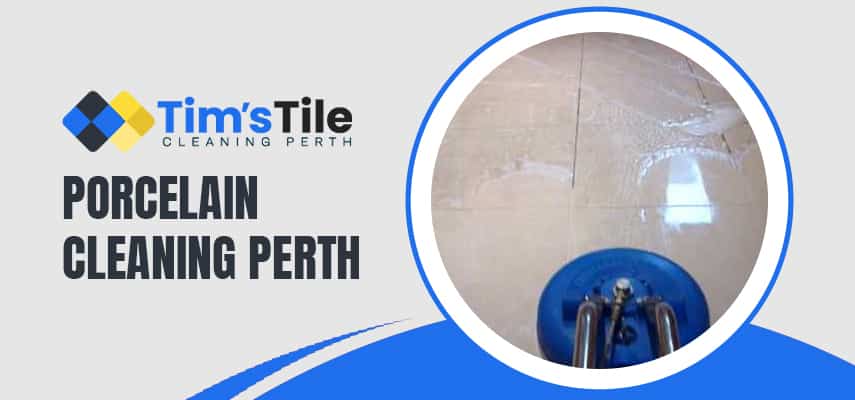 Find Out What Our Professional Porcelain Cleaning Can Do For You
With the greatest techniques and products, we will make your porcelain tiles sparkle and glimmer like never before. In other words, we properly fix your floor and make it seem lovely. Even in the best of conditions, cleaning tile tiles is a tough job, so rather than taking it on yourself, consider the advantages of employing a professional firm to do it instead. Below are a few of the most important reasons for hiring professionals:
Creates the appearance of a brand-new floor: Professionals utilise specialised tools and the force of steam to lift and clean all the dust and dirt that have built up among your tiles over time. You'll be stunned at how even a truly old floor may be enhanced with a deep clean as a result of rejuvenating the floor and showing its real beauty.
Enhances the appearance of your property: A spotlessly clean floor makes a fantastic first impression, and if you're thinking of selling your home, it's an absolute need.
Prevents bacteria and mould: With the use of specialised cleaning supplies, we can get rid of germs and mould from dirty grout, leaving your floor sterile and clean.
Deep cleaning: Even if you buy the greatest tools on the market, there's a good possibility the results won't be as good as they could be if Porcelain Cleaning Perth professional cleaners were using them properly. A professional cleaner can cover the most difficult nooks and corners using specialised cleansers and scrubs, providing a thorough clean that is impossible to do yourself.
No damage to porcelain: If you want to clean tiles by yourself, you'll need to invest in special cleaning supplies for each type of tile. For instance, porcelain tiles and ceramic tiles require different cleaners from granite tiles and natural tiles, respectively. Expert cleaners will be prepared when they arrive with all the necessary cleaners and thus will understand which one to use for better results without harming your porcelain.
Increases the lifespan of porcelain: Having your tiles cleaned professionally every few years maintains them looking fantastic, provides protection, and increases the lifespan of porcelain.
Complete the task promptly: A professional will complete the task much more quickly than you could, and in addition, it allows your time to spend with your family.
Time and money-saving: You might believe that cleaning your Porcelain yourself will save you money, but if you factor in the cost of tools, cleaning supplies, and the time it takes to perform a halfway decent job, you'll realise that it would be more cost-effective to hire experts to do it for you.
Perth Nearby Locations Where We Serve
Tile And Grout Cleaning services are offered in all Perth suburbs locations. We are available in all of these locations on a local basis.
We Provide Affordable and Secure Porcelain Tile And Grout Cleaning Services
Do you need grout and porcelain tile cleaning that is reasonably priced in Perth? Well, as long as our Porcelain Cleaning Perth staff is on the job, worry not. Using the perfect option at a reasonable price, hiring our tile and grout cleaning services will keep your porcelain tile. With our service, you may save money and time and protect your tile and grout from dirt and filth. Additionally, choose us for the most affordable service in Perth while selecting the most up-to-date grout and tile cleaning company. Your tile will look great and beautiful thanks to our knowledgeable advice. For immediate porcelain tile maintenance, give us a call right away.
Porcelain Cleaning Perth
Call us at 08 6117 2797 Porcelain Cleaning Perth
Location: Perth, WA, 6000, Australia