Around the house or workplaces, marble is utilised for a variety of purposes, including wall coverings, elegant sinks and basins, stair treads, flooring, and worktops. Due to its incredibly high quality, cleanliness, and capacity to raise the value of a property, marble is a chosen material. Here at Tims Tile Cleaning Perth, we are an expert in all kinds of marble care from polishing and cleaning to complete restoration when your marble becomes damaged, stained, chipped, broken, and dirty, you do not have to replace it. With our Marble Honing Perth service, you may once again relish your masonry in its best possible state by combining the most advanced restoration tools and our years of knowledge.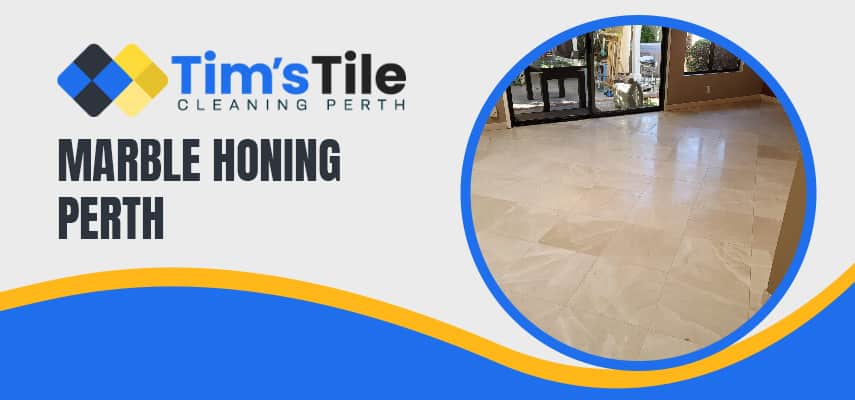 Why Marble Honing is Important?
All marble needs some kind of cleaning and treatment. It provides the specialised care your surfaces require.
For proper care and preservation.
With the help of marble honing, dull areas on your marble surfaces can be removed, and beautifully soft, matte, and glossy smooth finishes with little to no gloss can be created.
These finishes are appropriate for informal, comfortable setups than a more proper clean edge.
When your marble becomes damaged, discoloured, cracked, broken, and dirty, you do not have to replace it. Honing can solve your problem.
Honed marble is preferred for usage on kitchen counters, bathroom floors, living room flooring, and other frequently used surfaces. You may once again relish your marble in its best condition by combining the most advanced restoration tools with our decades of experience and marble cleaning and honing.
Procedure We Follow For Marble Honing
Marble Honing is a highly skilled task that needs effort and skill. If not done correctly and to a suitable depth, it could only highlight the blemishes and scratches. We have been marble honing using a top-notch procedure for decades. We thoroughly hone your marble using our effective procedure. The essential procedures we use to hone the marble are as follows:
Inspection: Our Marble Honing Perth staff will conduct a thorough inspection of the marble as its initial step. We can also confirm the most efficient way to proceed using this.
Eliminating Dirt: In addition, we can remove dull spots from your marble surfaces and create an exquisitely soft, glossy, and silky clean finish with little to no shine, which is often more appropriate for casual, comfortable surroundings than a more formal sleek surface.
Marble Honing: When honing your marble surfaces, you can almost eliminate time-consuming maintenance needs while still having beautiful stone surfaces in your home, such as a honed marble floor.
Post-Inspection: Last but not least, we do a post-inspection. We check every marble tile to make sure none are mistreated throughout the examination.
Perth Nearby Locations Where We Serve
Tile And Grout Cleaning services are offered in all Perth suburbs locations. We are available in all of these locations on a local basis.
Why Select Us For the Marble Honing Service in Perth?
Some of the most attractive surfaces you can have in your house or office is natural stone. If you want your surfaces to maintain their attractiveness, you must regularly maintain them with extra care. It is always essential to use the best Marble Honing Perth service. Contact us today to take advantage of the many advantages of our marble honing service. We also provide best tile and grout cleaning services. Here are a few of our areas of expertise:
Same-day service: Want a quick and efficient marble Honing service in Perth? Try our same-day cleaning service. There is a same-day service option. Use our services for same-day marble honing.
Accessibility: On the weekends and during the week, we offer marble honing services. For the quickest cleaning of marble honing, contact us even on holidays.
Post-care service: Another feature you can count on is the post-care service. Yes, the outcomes of the marble honing service can be verified.
Emergency Service: Our Marble Honing Perth service also offers service on a tight schedule and in an emergency.
Licensed and Skilled Professionals: Our team of certified experts is the finest at honing marble tiles.
Advanced Tools: While there are several widely available and basic Marble Honing tools, we employ the most advanced tools that all cannot match. We guarantee that your precious marble always looks its best.
FAQs – Marble Honing Perth
To reduce the amount of dust produced, the majority of our methods use water. Honing will produce sludge, but by using advanced tools and our decades of expertise your marble will be left in the best possible condition once we're done.
We have a restore option for any type of tile, including glossy, dull, porous, and pre-sealed. Outdoor marbles, wall tiles, bathroom marbles, and natural stone pavers, there are many different types of surfaces that we can handle.
The specialists use the greatest equipment available to get the best results without harming your surfaces. With the utmost care, we take pleasure in providing services that are particularly customised to each type of tile and every circumstance.
Marble Honing Perth
Call us at 08 6117 2797 Marble Honing Perth
Location: Perth, WA, 6000, Australia