Excellent And Quality Efficient Tile Regrouting Services In Perth
If tiles in your residential or commercial space become dull or discoloured or grout begins to crumble away then it is the time when you should feel the requirement of regrouting. Regrouting is the best way to provide an elegant look to your tiles again, without replacing them. For this, our Tile Regrouting Perth service is an excellent team that provides exceptional services by delivering the best results.
Our experts will follow all the industry standards to meet the safety requirement of our customers which is the satisfaction of customers which is the main goal to run our business. This is the place where you do not have to compromise with technology, that is we always keep a strict check over the quality standards and always try to provide you with quality efficient services.
Our members will provide Tile and grout Cleaning Services for all types of tiles whether it is kitchen or bathroom tiles or for any other areas or whether it is shower or splashbacks, etc. All the services are guaranteed and provide a completely new appearance to your tiles and grouts which you have never seen before. The grubbiness of your tiles can be removed and it will provide a new look which is the complete transformation of the previous one. Thus, book an appointment whenever you need us.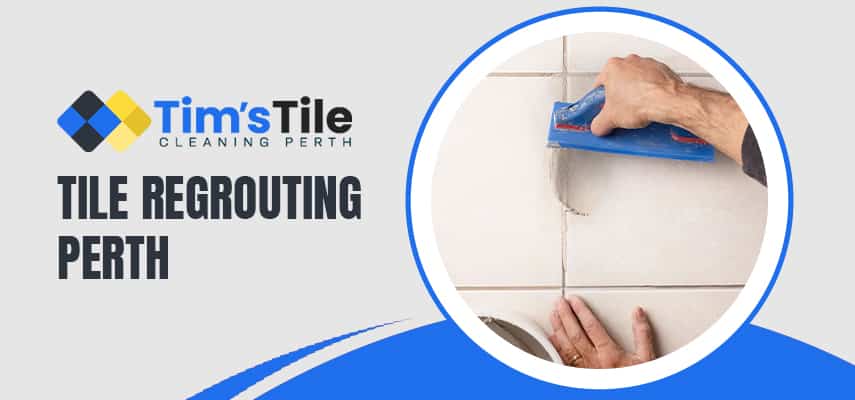 Things You Should Know About Tile Regrouting
The regrouting of tiles is a process to improve the appearance of your tiles and grouts dramatically which is considered to be the best alternative to retiling and also saves the money of replacing your tiles.
Are you looking for highly experienced professionals for the maintenance of your tile and grouts and capable of restoring them? Then why not our Tile Regrouting Perth team? Our technicians follow the following steps for regrouting:
This is the preparatory step in which all the equipment and other things required for the process are collected at a particular location for the start of the process.
After going ahead, our experts will cheap away the old grout with the help of a utility knife or grout saw. The process starts and continues until the top layer of the grout is removed.
Clean and pre-seal: This step is divided into 2 parts:
In the first step, all the old grout is cleaned away which gives a clean palette while in the second part, a pre-grouting sealer is used to protect the tiles and keep them smooth.
For this, our technicians mix our branded regrouting material with water to make a solution and apply it to the removed grouted place. This process goes through like this in a smooth way and it should be kept in mind that no bubbles will remain there otherwise it may result in spots.
While applying the regrouting solution, various surfaces of tiles have smudges that must be removed and so rubber grout float is very helpful in the removal of these smudges by moving it diagonally across the tiles.
After the removal of the excess solution, you have to wait for 10-15 minutes for the setting of the solution over the grout. After this, clean the surface with a slightly damp sponge and leave it for 24 hours for drying, if you want excellent results.
Finish with caulking the joints
The process is now going towards its end and for this, you want to go over the grout lines and caulk the gaps present between the lines.
At the last, seal the grout lines so that it lasts for years without any complaints.
Hence, say goodbye to grubby grout today with our services.
Perth Nearby Locations Where We Serve
Tile And Grout Cleaning services are offered in all Perth suburbs locations. We are available in all of these locations on a local basis.
How You Will Get Advantages Of Professional Tile Regrouting Services?
Professional tile regrouting is not just a process, it is a belief of customers towards o Tile Regrouting services because they believe that the new grout helps to prolong the lifespan of your tiles and this is possible only with the assistance of outstanding experts. Hence, you will get a number of advantages of professional tile regrouting services which are described below:
Time: When there are regrouting experts for your help then you have much time for any other work as we provide very fast service within a day or two and save you time.
Eco-friendly: Regrouting when done with our specialists then it will become a green solution for your tiles as it saves carbon emissions. Therefore, specialists are very useful.
Presentation- pre-lease: When you present a well-floored property to your tenants then it will be leased quicker and may justify high rent. So, you will be in profit and the reason behind this is professional tile regrouting services.
Rates: Tile regrouting service is the process to provide a new look to your tiles and grouts and you may agree with the fact that their rates are very low as compared to the replacement of tiles and so this saves you lots of money.
Convenience: Regrouting is not a very hectic process. Instead, it is carried out with much less downtime than retiling and full renovation. Thus, it is a very convenient process for you.
Presentation- pre-sale: A well-presented property can increase its selling price and sell quicker and has a very good amount of appeal among the buyers and so it is a very big advantage of regrouting.
Hence, it is a good decision on the part of the customer to regrout your tiles and grouts rather than retiling or reflooring the entire area and for this process, you can call our Tile Regrouting Perth services for satisfying experiences.
Tile Regrouting Perth
Call us at 08 6117 2797 Tile Regrouting Perth
Location: Perth, WA, 6000, Australia