Best Hard Surface Cleaning Services From Perth Professionals
Maintaining clean surfaces is essential for personal hygiene, the safety, and health of your family or customers, as well as appearances and positive first impressions. The use of hard surface cleaning in Perth is recommended, especially given that maintaining and cleaning hard surfaces regularly with high-quality solutions can ultimately help you save a lot of money.
No matter the size or shape of the floor, our skilled cleaning team can handle it. To make sure that we satisfy your cleaning needs and preserve the integrity of your surfaces, Tims Tile Cleaning Perth employ advanced cleaning equipment and toxic-free products. Hard surface management should have a routine of daily, weekly, and recurring duties to guarantee that all surfaces are well maintained.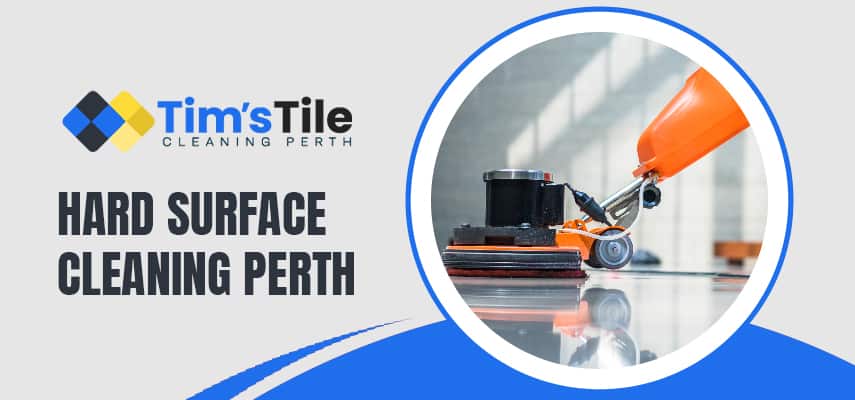 Also, we are a hard surface cleaning Perth company that has been in business for a long time and has become the only choice for many people. The effective hard floor cleaning techniques used by our well-trained group of cleaners helped them build a solid reputation. We do this because we firmly believe in offering environmentally friendly floor cleaning to solve any problems with hard surfaces. Your hard surfaces will look brand-new and sparklingly clean after using cleaning techniques similar to ours.
We always take pleasure in the work we produce, and we promise that every client will be completely satisfied. Managing your property might be challenging, but you can rely on our team for Hard Surface Cleaning in Perth.
Why Hard Surface Cleaning Is Important?
Before disinfecting surfaces, they must first be thoroughly cleansed. To prepare surfaces and machinery for disinfection, filth, grime, and dust must be removed. Bacteria and germs can live in the soil. Surface soils reduce the effectiveness of cleaning. Cleaning and restoring them to their best state will help you keep them in the finest possible condition. For each type of floor and each operation, there are different goods available. It is important to have a professional clean your hard surfaces while using any cleaning products.
Every firm or property is unique, and we are aware of this. For companies and properties of all sizes, we provide customised services. To ensure that your other activities are not significantly disrupted, our team will answer your demands.
Perth Nearby Locations Where We Serve
Tile And Grout Cleaning services are offered in all Perth suburbs locations. We are available in all of these locations on a local basis.
We Serve Our Hard Surface Cleaning Solutions Across Perth
All you need to do is place an order for our hard surface cleaning Perth services, which are available for both corporate and residential locations. When customers knock on our doors, we openly offer our services for both locations at fair and affordable costs. Some of our many Perth clients are residents of the following sites:
Private residences and residential communities
Shopping malls and stores
Restaurants, cafes, and hotels
Colleges, universities, and other academic institutions.
Why Are We The Best Option For Hard Surface Cleaning In Perth?
We act accordingly because various hard surfaces of tiles require specific maintenance. Even if we have a backlog of bookings from Perth-based clients, we arrive at your location at the scheduled time. Our team of expert cleaners for Hard Surface Cleaning Perth provides high-quality hard surface cleaning services. Working with us for your needs has some advantages, such as:
We focus on the little things while removing bacteria, oil, filth, and grime.
For our hard surface cleaning Perth services, we never use just any cleaning products to achieve the desired outcomes. We prefer to use cleaning products without chemicals.
Our company's many teams each have the required credentials, including state licenses and certificates.
Restore the appearance of your hard surfaces, whether they are horizontal or vertical.
If a client requests it, we will explain in plain terms the specifics of our customized cleaning method.
You don't have to worry about service prices because there are none, such as additional rates for hard surface cleaning.
Since we've been operating by the industry's laws and regulations, we've established ourselves as one of the major players.
We offer environmentally-friendly solutions.
We promise complete customer satisfaction with our work.
Hard Surface Cleaning Perth
Call us at 08 6117 2797Hard Surface Cleaning Perth
Location: Perth, WA, 6000, Australia