Professional Slate Cleaning Service In Perth
Slate tiles, which generally have a darker appearance, are used frequently on both floors and walls inside and outside of buildings. Slate is used in kitchen counters because it has excellent thermal resistance. Slate tiles are primarily black, with occasional flecks and blue, green, grey, and red. If the colour of your slate tiles is fading and they are getting bland. To schedule a deep cleaning, then get in touch with our Slate Cleaning Perth team. For preserving slate tiles, we have skilled specialists. Additionally, we only employ the best and most effective cleaning agents for slate tiles. In Perth, we also provide a comprehensive selection of slate cleaning services.
Tims Tile Cleaning Perth employ a variety of environmentally safe tools and advanced cleaning techniques to remove spots and stains from slate. Take the advantage of our fast and expert slate cleaning services in Perth today!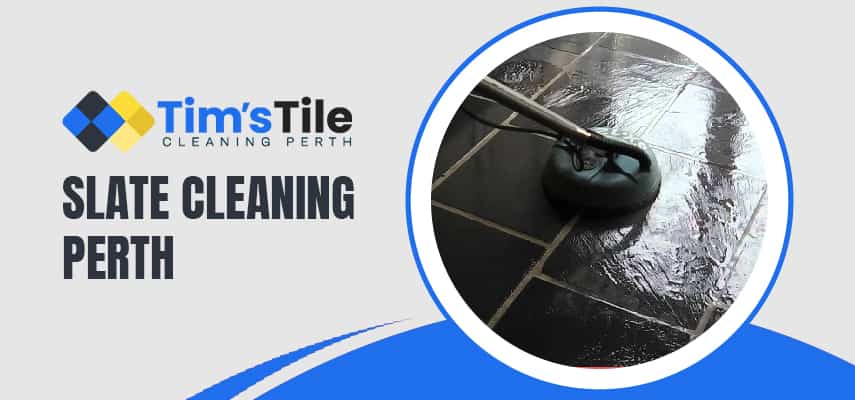 Why is Slate Cleaning Important?
Slate comes in a variety of textures, each with unique properties, allowing us to choose and use just the best cleaning agents and techniques for that specific surface. This removes the risk of injury or discolouration. Before the slate can be cleaned, it may be necessary to first remove any previous sealants. Slate is a solid yet fine-grained stone, so wherever you have used it in your house or workplace, you are aware that it is frequently scratched and damaged. Our skilled team for Slate Cleaning Perth service will begin by thoroughly inspecting the surface, including the slate itself and any coatings that have been applied, before beginning the cleaning process.
It is always beneficial to have your slate professionally sealed or resealed once it has been cleaned. This completes a two-day process that also includes our comprehensive and attentive cleaning procedures.
We Offer Effective Techniques To Clean The Slate Tiles
The quality process is committed to by our Slate Cleaning Perth staff while providing the service. However, we have satisfied a few of our clients with the slate cleaning procedure. So this is the procedure we use for cleaning slates:
Thoroughly clean: The slate tile is thoroughly cleaned in the next phase. In order to clean the dust and debris off the tiles, we utilise a vacuum that has been approved by the sector.

Steam and dry cleaning: Based on an inspection, we wash the slate tiles using steam and dry cleaning. We use the hot-water extraction process for slate when cleaning thoroughly. The slate tiles are dried-cleaned without the use of water.
Disinfecting Slates: Next, we use the sanitization procedure to remove pathogens, microbes, and bacteria from slate tiles.
Perth Nearby Locations Where We Serve
Tile And Grout Cleaning services are offered in all Perth suburbs locations. We are available in all of these locations on a local basis.
Why Should You Hire Our Professionals for Slate Cleaning Service in Perth?
Slate tile cleaning is difficult. We are well known in Perth for providing trustworthy slate, tile and grout cleaning services. We also provide numerous other benefits as part of our slate cleaning service in Perth. Here are a few things that make us special:
High-quality Equipment: Slate is a naturally permeable stone that requires sealing to prevent stains. Your best option is to clean and seal your slate tiles with our high-quality equipment, whether you've just purchased them or want to restore their brand-new appearance.
Qualified Experts: Our Slate Cleaning Perth experts are experienced in maintaining and restoring slate tiles. Homeowners, shopping malls, clinics, institutions, and big and small workplaces are just a few of our many clients. You can rely on receiving the best slate cleaning and protection available.
Same-day Service: You can get same-day service from our slate cleaning experts in Perth. So get in touch with us right now for a prompt slate cleaning service.
Availability: You can schedule slate cleaning services with us any time, we are available 24×7. You can also get in touch with us on the weekends or holidays for slate cleaning.
Affordability: We offer a slate cleaning service in Perth at a reasonable price. Also, there are no additional fees associated with our slate cleaning service.
Safe Cleaning Techniques: To clean slate tiles, we employ safe, non-chemical cleaning agents that are eco-friendly too.
Emergency Service: Need a slate cleaning service right away? Call our emergency day service. Schedule an urgent slate cleaning with us right away!
FAQs – Slate Cleaning Perth
When your slate loses its natural colour and turns dull then realise that you require a professional Perth slate cleaning service as soon as possible. You can get in touch with our specialists as soon as you can for the top slate cleaning service.
We have years of knowledge and we understand how serious your family's safety is. So, to clean the slate tile, we employ organic cleaning agents. So our slate cleaning products are safe for the environment and your family.
Yes, we provide slate cleaning services for both homes and businesses in Perth. We provide slate cleaning services in Perth and are available in all Perth suburbs. For the flexible slate cleaning service, please get in touch with us right away.
Slate Cleaning Perth
Call us at 08 6117 2797 Slate Cleaning Perth
Location: Perth, WA, 6000, Australia