Expert Travertine Cleanings In Perth At Affordable Rates
We offer top-notch travertine cleaning Perth techniques on time so that your travertine tiles maintain their aesthetic appeal. We use the proper techniques and equipment to smooth travertine surfaces thanks to our decades of experience. As we have observed over various travertine tiles, Tims Tile Cleaning Perth are aware of the best cleaning technique for each condition.
The most elegant, unique, and frequently used natural stone is travertine. When limestone is mixed with thermal springs, time, and thousands of years, travertine is formed. It is a variety of limestone that mostly consists of limestone and crystalline minerals. Both in residential and commercial settings, its unique qualities of colours, shades, finishes, and sizes produce a warm, welcoming impact.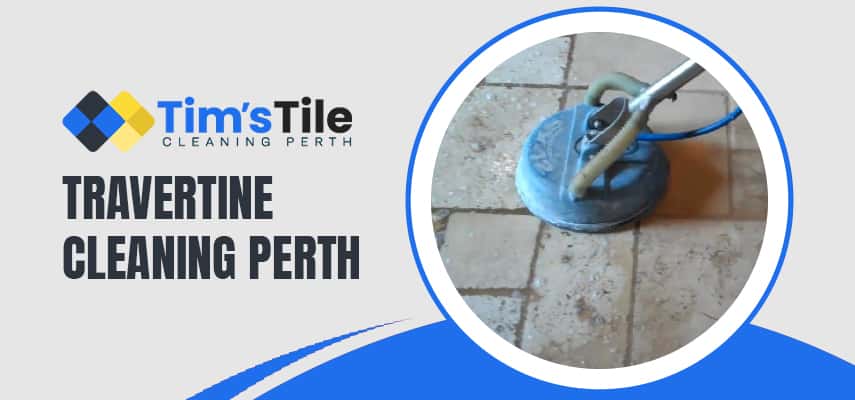 Professionals in Perth Provide the Latest and Most Reliable Travertine Cleaning Services
Travertine tile is available in white, tan, and cream shades and frequently has a tensile or circular appearance. It is created when calcium carbonate rapidly precipitates, frequently at the entrance of hot springs or in limestone caverns. It is frequently employed as a building material in various countries. It is frequently employed as a building material in various countries.
We are knowledgeable in all types of cleaning, from light cleaning to thorough and deep cleaning, for travertine cleaning in Perth. We are experts at removing old travertine tiles from grout lines and replacing them with new ones. We can guarantee that our travertine professional cleaners within and around Perth are the best known. Committed to using only safe, chemical-free solutions, which is why we have succeeded in doing so.
Our Effective Travertine Cleaning Procedure
We are a team of professional cleaners with a qualified license in offering safe cleaning solutions, and we specialized in travertine cleaning in Perth. Not only are we qualified to clean travertine tiles, but the techniques we employ have also received governmental approval. So, check for our Perth cleaners if you want efficient, safe, and affordable travertine cleaning services. You can rely on our travertine cleaning Perth services when you need them. Here is our Effective Travertine Cleaning Procedure:
Pre-Inspection: We will look for any problematic areas that require care or special treatment by inspecting the floor's tiles and cement.
Soil Suspension: We will use only the best cleaning agents, to clean the tile's entire surface.
Grout Sealing: After the cleaning procedure is complete, we will seal the surface to prevent it from additional dirt.
Soil Removal: After carefully cleaning the place to be cleaned, we will sweep up any dirt or debris on the floor.
Cleaning: We will employ our travertine Cleaning Equipment after the chemical has had the chance to dwell.
Post-Inspection: To make sure that every area has been cleaned thoroughly, we will once more re-check the tiles with you.
We Provide Commercial Travertine Cleaning Services 24×7
We are dedicated to always providing commercial services in addition to our home travertine cleaning Perth deals. Shopping malls, manufacturing facilities, hotels, hospitals, and other commercial buildings are among the settings where we demonstrate our expertise in cleaning travertine tiles. We gladly accept clients from all kinds of commercial buildings and offer them affordable travertine cleaning services. Like residential care, we also send out regional specialists for corporate offices.
We travel a long way to give travertine cleaning Perth services, yet we never experience difficulties getting there. Despite this, the quality of our services will never be sacrificed for any client or any place. Furthermore, our professionals who specialize in offering corporate travertine cleaning services are employed directly by our business; we do not contract out cleaning services. We are flexible travertine cleaning experts with advanced and exclusive industrial cleaning techniques.
Perth Nearby Locations Where We Serve
Tile And Grout Cleaning services are offered in all Perth suburbs locations. We are available in all of these locations on a local basis.
What Makes Us Unique?
We are dedicated to Travertine Cleaning and will put in a lot of effort to ensure that your house or place of business has lovely, spotless floors. Our ability to produce high-calibre work and your pleasure with it is what matters to us.
We employ the most advanced cleaning technology.
We provide excellent Services at an affordable rate.
Every time we complete a task, we give high-quality tile cleaning, restoring, and sealing, and we guarantee your complete pleasure.
Both residential and commercial properties are covered by our services.
We employ our technicians in-house; we do not subcontract their services.
We offer flexible and innovative service delivery.
The tasks were completed by numerous skilled and trained technicians.
Travertine Cleaning Perth
Call us at 08 6117 2797 Travertine Cleaning Perth
Location: Perth, WA, 6000, Australia