If we talk about tiles, it is easier to clean them as compared to the criss-cross lines across the tiles. Cleaning the grouts is not at all an easy task and requires a lot of effort and techniques. In this blog, we have provided some of the best tips that will help you to get a sparkling floor, with no dirt even in the corners and grouts. But, if you want a perfect look or that professional clean finish, you can take professional tile cleaning services.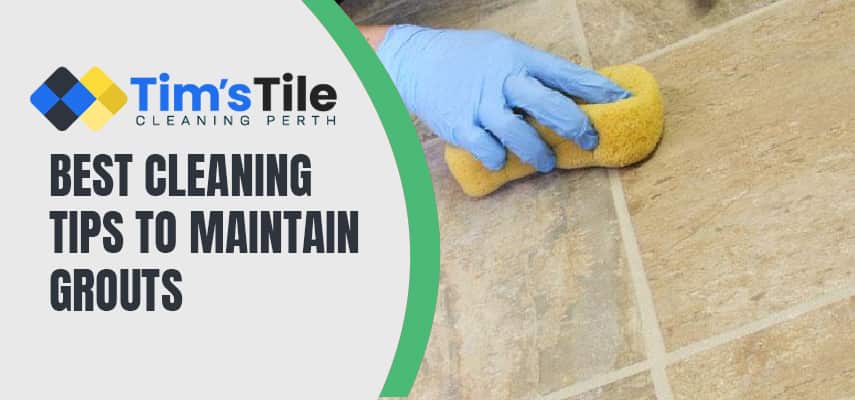 Here Are Some Best Cleaning Tips To Maintain Grouts:
The texture of grout is very different from that of tiles and thus it requires some special techniques to clean them. Homeowners should take extra care while cleaning it as the material of grout is such that it gets easily damaged. To avoid such damages one can also take the services of tile cleaning companies. Here are the best cleaning tips to maintain grouts:
Pre-scrubbing preparation– The first thing you can do to clean your grout, is to scrub it. But before scrubbing you need to prep the floor to achieve the best results. First of all, you should wipe off the desired area with a microfiber cloth and then wipe it with hot water so that all the dirt gets collected. This is an important step to remove the outer dirt and even the best tile and grout cleaners use this method.
Scrubbing– Once the upper cleaning of the grout is done, you should next apply the grout cleaner of your choice and scrub the floor using a very thin bristled scrub. While scrubbing the grout you should use gentle force as too much scrubbing might tear down the grout. Also, take all safety precautions while using the cleaner and if you are not comfortable with using a cleaner, you can always take professional tile cleaning services.
Regular cleaning and mopping– You can avoid stubborn stains by regularly cleaning tiles. Maintaining tiles and grout can be a tiresome task but if you just take a few minutes to dust off the dirt from the floor every day, you can avoid dirty tiles and grouts. Mopping regularly is one of the most effective ways to keep grout clean. And if you don't have enough time, you can take help from tile cleaning companies, every once in a while.
Hire professional cleaning services- Cleaning grouts yourself will take a lot of time and effort and in addition to that trying different cleaning products will cost you money also. For some homeowners who do not want to waste that much time, taking professional help would be the best option. All the good companies provide a guarantee of their work, so you need not worry about your grout. Such companies hire only the best tile and grout cleaners so you can remain assured of the best results. 
Conclusion:
Maintaining and cleaning tiles and grouts take time and effort. You can use the given tips to get sparkling floors. You can also take services from professional tile cleaning people so that you can maintain the best quality of your floor, after all, it's part of the beauty of your home. Our staff have Certificate III in Cleaning Operations.